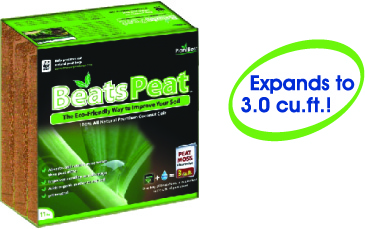 Beats Peat Coconut Coir 3 cu ft Brick
$10.99
In Stock
Beats Peat is an eco-friendly Coconut Coir peat moss alternative.
Just add water and these 11 pound bricks will expand to the 3 cu ft
equivalent of peat moss to improve your garden soil. Especially useful
for raised bed gardening but can work well if you till it into your flat
garden.
Absorbs and retains more water than peat moss
Improves aeration and drainage
Adds organic matter to any soil
pH neutral
Dimensions: 10.75″ Wide x 11″ High x 5.50″ Deep
Manufacturer Model Number: 3041